Impact of Criminal Convictions on Gun Rights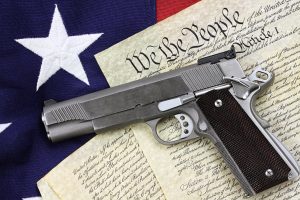 If you are facing criminal charges in Wisconsin and you own a gun, intend to purchase a gun, or think that you may someday be interested in gun ownership, it is important to understand what your arrest means for your gun rights under state and federal law. The United States Supreme Court has made clear that the Second Amendment's protections are not absolute, and convictions for various criminal offenses can result of loss of your right to bear arms.
Not only that, but in varying circumstances, criminal defendants can lose their gun rights even without a conviction. For example, say you are charged with a felony but you are acquitted after using the defense of having a mental disease or defect. You now have no felony conviction – however, you can still lose your right to own or carry a gun under Wisconsin law. The laws that can deprive criminal defendants of their gun rights are broad and highly-complicated, and in order to protect these rights after an arrest in Wisconsin you will need experienced legal representation.
At Crooks, Low & Connell, S.C., we fight aggressively to protect our clients' rights. Whether you hunt, own a gun for self-defense, carry a firearm for work, or shoot recreationally, we can help you understand if your gun rights are at risk. If they are, we can pursue all available defense strategies to preserve these rights while minimizing any other consequences of your arrest.
When Your Gun Rights are at Risk in Wisconsin
While most people know that convictions for serious violent felonies can result in loss of the right to possess a gun, many do not realize that even convictions for nonviolent felony offenses and certain misdemeanors can deprive citizens of their gun rights. Under Section 941.29(1m) of the Wisconsin Statutes, each of the following can result in the loss of your right to carry:
Conviction of a felony in Wisconsin
Conviction of a crime in another state that constitutes a felony offense in Wisconsin
Being adjudicated delinquent for a felony-level offense
Being found not guilty of a felony in Wisconsin by reason of mental disease or defect
Being found not guilty or not responsible for a felony-level offense in another state by reason of insanity or mental disease, defect, or illness
Being committed to substance abuse treatment and subject to an order not to possess a firearm for certain offenses under Wisconsin law
Being subject to an order not to possess a firearm
Being subject to an injunction related to an incident of domestic abuse or child abuse, and
Certain other conditions relating to specific criminal activities
Since other states have similar laws, if you are convicted of a felony offense in Wisconsin, your conviction could result in the loss of your right to possess firearms in other states as well. In addition, federal law bans individuals who have been convicted of felony offenses and misdemeanor offenses involving domestic violence from carrying a gun.
Wisconsin Criminal Defense: Gun Right FAQs
Q: If I have been charged with a felony, will that automatically result in the loss of my right to carry a gun?
Not necessarily. In many cases, criminal defendants will have grounds to seek to preserve their gun rights even if the offense with which they have been charged is covered under Section 941.29(1m). The specific facts and circumstances involved in your case will be important, and you will need to discuss your options with your attorney.
Q: If I lose my gun rights due to a criminal conviction, is it possible to have my rights restored?
Potentially, yes. If your criminal record is eligible for expungement, then you may be able to have your gun rights restored (however, not all offenses are eligible). Under certain circumstances, you may also be able to appeal the loss of your gun rights. If you were recently convicted of a crime resulting in the loss of your gun rights in Wisconsin, you should speak with an attorney as soon as possible.
Q: What happens if I get arrested for carrying a gun after my gun rights have been taken away?
In Wisconsin, possessing a firearm after losing your gun rights for any of the reasons listed above is a Class G felony. Class G felonies carry penalties of up to 10 years of imprisonment and a $25,000 fine.
Schedule a Consultation with a Wausau, WI Criminal Defense Attorney
If you are facing criminal charges in Wisconsin, our criminal defense attorneys can fight to protect your gun rights. To schedule a confidential initial consultation, please call our Wausau law offices at (715) 842-2291 or request an appointment online today.